Norman Solomon and Two Whistleblowers, Peter Van Buren and Matthew Hoh, Introduce ExposeFacts.org, on KZYX, Friday, June 27, at 9 a.m., Pacific Time

"ALL ABOUT MONEY" at KZYX, with host, John Sakowicz, is pleased to welcome one of our country's leading progressives, Norman Solomon, to the show. We will air on Friday, June 27, at 9 a.m., Pacific Time.
Solomon and others are calling for a new generation of whistleblowers to expose policy blunders, and fraud, waste, and corruption in the federal government, particularly in defense and intelligence spending.
We'll be joined by two prominent whistleblowers, Peter Van Buren and Matthew Hoh.
Daniel Ellsberg has been invited to also call into the show.
Our broadcasts are heard at 88.1, 90.7, and 91.5 FM in the Counties of Mendocino, Lake, Humboldt, and Sonoma in northern California.
We are also heard live from the web at www.kzyx.org
NORMAN SOLOMON — Solomon is the founder and executive director of the Institute for Public Accuracy, a consortium of policy researchers and analysts.
He is the author of a dozen books on media and public policy, including "War Made Easy: How Presidents and Pundits Keep Spinning Us to Death".
The Los Angeles Times called the book "brutally persuasive" and "a must-read for those who would like greater context with their bitter morning coffee, or to arm themselves for the debates about Iraq that are still to come." The newspaper's book reviewer added: "Solomon is a formidable thinker and activist." The Humanist magazine described the book as "a definitive historical text" and "an indispensable record of the real relationships among government authorities and media outlets."
Solomon is on the editorial board of ExposeFacts.org. Launched by the Institute for Public Accuracy in June 2014, ExposeFacts.org represents a new approach for encouraging whistleblowers to disclose information that citizens need to make truly informed decisions in a democracy. From the outset, their message was clear: "Whistleblowers Are Welcomed at ExposeFacts.org."
Solomon is also the co-founder of the national group RootsAction.org, which now has more than 400,000 active members.
Solomon was also a Congressional candidate. On April 13, 2011, Solomon officially announced his candidacy for what the open House seat in the newly created 2nd congressional district of California. Representative Lynn Woolsey—the incumbent from the former 6th congressional district, which was geographically expanded into the new 2nd district via redistricting—announced her retirement later in June, setting up a competitive Democratic primary in one of the more liberal districts in the country.
Observers expected Solomon to position himself to the left of his competitors and as the "philosophical heir" to Rep. Woolsey, a leader of the Congressional Progressive Caucus. In announcing his campaign Solomon himself argued, "After so many years of progressive leadership from Lynn Woolsey, her successor in the House should have a proven commitment to a wide range of progressive values." Solomon emphasized his strong environmentalist background and particularly his opposition to nuclear power, which he used to differentiate himself from his primary opponent, Assemblyman Jared Huffman.
Finally, regarding whistleblowers, Solomon recently said: "The ongoing disaster in Iraq is continuously worsened by overall U.S. government suppression of whistleblowing in favor of enabling the latest 'best and brightest' in Washington to keep calling the shots."
PETER VAN BUREN — Van Buren, a 24-year veteran of the State Department, spent a year in Iraq. Following his first book, "We Meant Well: How I Helped Lose the Battle for the Hearts and Minds of the Iraqi People", the Department of State began proceedings against him. The book, published in 2011, called out the State Department for failing to address the root problems in Iraq, both the Sunni-Shia tribal/political/religious divides as well as the failed civil and municipal infrastructures that underlay widespread discontent with the Iraqi government.
Instead of reviewing Van Buren's arguments, the State Department sought to prosecute him as a whistleblower, until the intercession of the Government Accountability Project and the ACLU allowed Van Buren to depart his 24 years of government service on his own terms.
Last week, Van Buren appeared on the nationwide public radio program "To The Point" to discuss "Government Secrecy and the People's Right to Know," along with Norman Solomon. Newsweek reported on ExposeFacts with an extensive article, "The Website That Wants the Next Snowden to Leak."
MATTHEW HOH — Hoh, now a senior fellow at the Center for International Policy, served with the U.S. Marine Corps in Iraq and on U.S. Embassy teams in both Afghanistan and Iraq. He was subsequently appointed Senior Civilian Representative of the U.S. government for Zabul Province in Afghanistan. Five months into his year-long contract in 2009, Hoh resigned and became the highest-ranking U.S. official to publicly renounce U.S. policy in Afghanistan. Hoh was awarded The Ridenhour Prize for Truth-Telling in 2010.
He added: "American military involvement will serve as an accelerant to and a prolonger of this Iraqi civil war. American bombs, bullets and dollars will further strengthen the bond between Sunnis and extremist groups like ISIS, increasing Sunni desperation by intensifying their backs-to-the-wall dilemma and justifying the propaganda and rhetoric of ISIS: a narrative of a Western campaign of international subjugation enacted through Shia, Kurdish and Iraqi ethnic minority puppets.

Hoh concluded by saying, Furthermore, such American support will strengthen the resolve of the al-Maliki government not to reform and not to address Sunni grievances. With the renewed backing of American might and money, al-Maliki's government will feel no need to restore a balance of power in Iraq and will continue a policy of disenfranchisement and marginalization of the Sunni population and leadership. Only by withholding support to al-Maliki's government, and not by sending advisors, tomahawk missiles or cash, will there be a reason for al-Maliki's government to negotiate and seek peace."
Last week, Hoh wrote the piece "Bombs Are Medication for Guilt, Not Peace, in Iraq." He appeared on HuffPost Live in a segment titled "New Website Encourages Government Workers to Blow the Whistle," discussing his involvement and support for ExposeFacts.org.

http://vimeo.com/96761034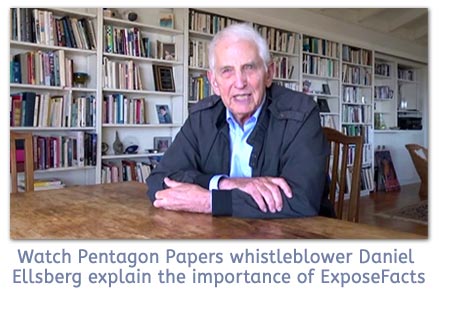 Tags: Untagged